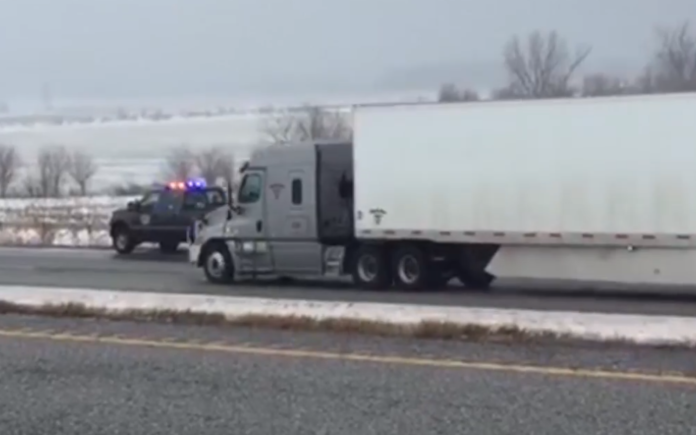 A truck driver trying to assist a crashed motorist found himself the victim in an unusual hostage situation in Missouri this week, according to police.
The incident began around noon on Tuesday, January 22, on I-29 in Holt County, Missouri, according to a report from News-Press Now.
Police say that a woman was driving north on I-29 when she lost control of her car and slid into a ditch.
A passing semi truck driver saw the car in the ditch and stopped to try to assist the woman, who also had a six year old girl inside the car with her. According to reports, the trucker allowed the woman and child into the cab of his truck.
Once inside the truck, the woman opened the truck's glove box, removed a flare gun, and used it to force the truck driver to keep driving down the interstate.
The Missouri Highway Patrol's Sergeant Corey Root said, "At that point, basically a hostage-type situation occurred. She took her daughter — we believe it was her daughter — almost as a hostage to get the truck driver to drive her north on Interstate 29."
The truck driver drove the woman and child about 26 miles before Missouri troopers and the Rock Port Police Department located and stopped the truck.
The trucker and child made it out of the vehicle unharmed.
The woman was placed under arrest an then taken to an area hospital. She is facing charges of felony kidnapping, felony assault, and armed criminal action.
Police are still unsure why the woman took the truck driver who stopped to help her hostage.
Troop H comments on hostage situation 1-22-19

See what the Missouri State Highway Patrol had to say about the hostage incident that occurred on I-29 today.Full story: http://www.newspressnow.com/news/local_news/woman-threatens-trucker-child-with-flare-on-i/article_36c6013d-c26f-57dc-b087-776bfb26f1b6.html

Posted by Jessika Eidson- NPNow on Tuesday, January 22, 2019
Find the perfect match.
Apply once and get offers from the top trucking companies.