Ice Road Trucker's fans have been very vocal about how they feel about the absence of Lisa Kelly.  Many are outraged and have even vowed to boycott the show until Kelly returns but as it turns out, it may have been Kelly's decision to leave the show.
Recently,  journalist and blogger Kate O'Hare had a chance to speak with IRT producer Thom Beers.  Here's what she posted about their conversation regarding Lisa Kelly:
Last week, I headed to Washington, D.C., for a couple of days to take part in a roundtable discussion on the state of reality TV with some fellow journalists and producer Thom Beers of Original Productions, responsible for "Deadliest Catch," "Black Gold," "Bering Sea Gold," "Storage Wars," "Ax Men" and many more reality hits.
While I had Beers' ear, I asked him a question that many blog commenters have been asking since the premiere of the new season of another of his shows, History's "Ice Road Truckers" — "Where is Lisa Kelly?"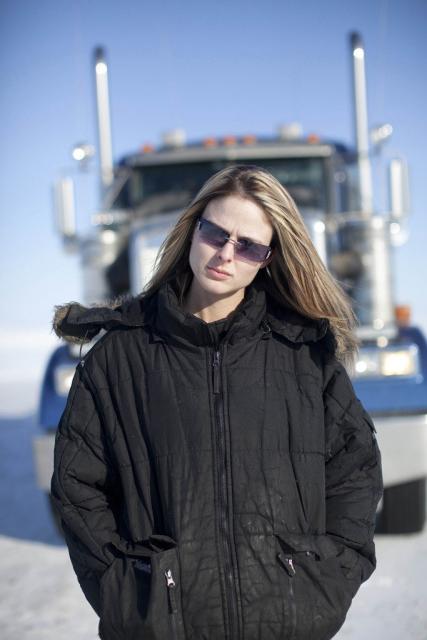 "We offered her a contract to return," Beers said after the roundtable, "and she chose not to. That's it. We invited her back. Love to have her. She's taking a year off, realizing that she might not be able to get another show. But she's an interesting woman. We liked her.
"The thing what we liked about her more than anyone else — she's the one person of them all that showed real fear.
"I wish her luck, and I wish she was back."
Until now, the show has been mum on Kelly's absence, and rumors have been flying. Some say there was too much drama on the set for Kelly's taste, some say Kelly wanted more money, and some have said that Kelly may be moving on to bigger, better things.
Kelly has led many to believe that she may perhaps be getting her own show. Kelly posted the following statement on her facebook page, So who said anything about Team Lisa and I going anywhere? We're all still a team. I'll keep you up to date alllll the time. The journey continues. You're all part of it.
We may never know the real reason for Kelly's dismissal from the show, but we're sure we haven't seen the last of Lisa Kelly.
[youtube url="http://youtu.be/vWRJNJ-P4wI" width="450″]