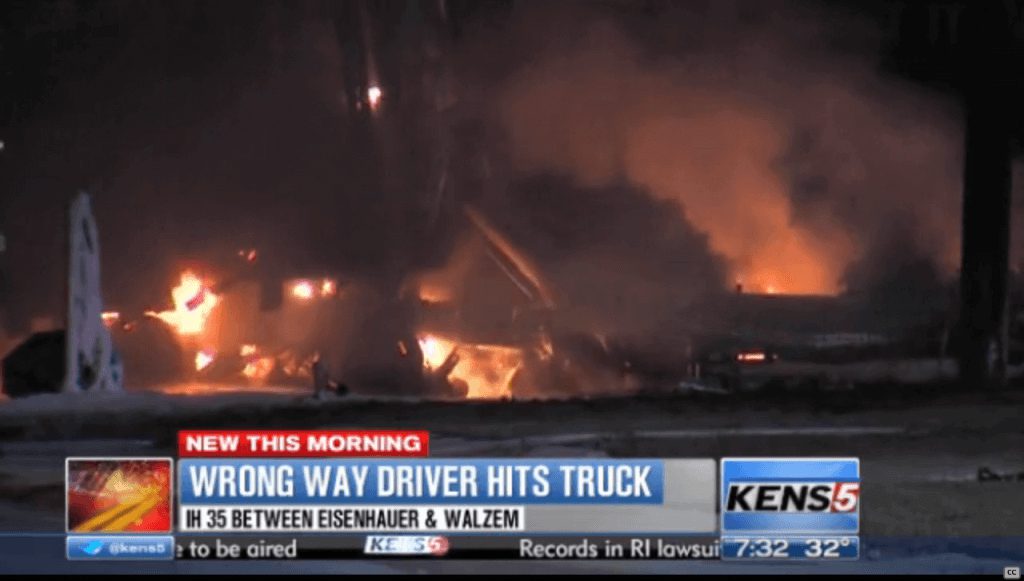 Texas
In the early morning hours of Saturday, a wrong-way driver slammed into a truck traveling north on Interstate 35 near Eisenhauer and Walzem in San Antonio, Texas.
The collision caused the truck to start leaking fuel, which caught fire and caused the truck to explode.
Fortunately, the truck driver was able to escape, uninjured, before the truck became engulfed in flames.
The car driver was taken to a local hospital with serious injures but is expected to live.
Colorado
Also in the early morning hours of Saturday, in Cheyenne County, Colorado, a wrong-ways driver collided with a truck on Highway 40, east of Hugo.
According to KKTV, the truck driver tried to avoid hitting the oncoming vehicle but was unable to prevent the head-on collision.  The collision caused both vehicles to go off the side of the highway.  The truck ended up in a ditch.  The Nissan erupted into flames.
The truck driver sustained minor injuries.  The Nissan driver, 65-year-old Michael Manley, died at the scene.
Drugs and alcohol are not suspected, troopers said.
What can be done to prevent this kind of accident?  Some have suggested spike strips on exit ramps.