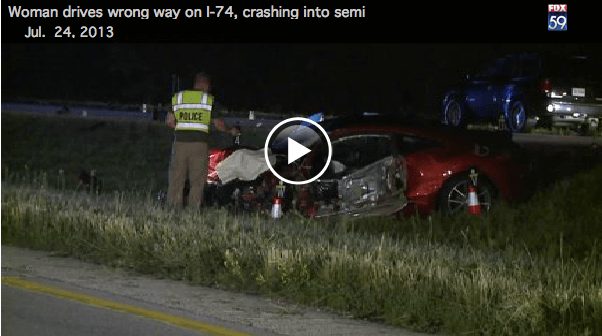 Yesterday,  a 20-year-old woman drove her car the wrong way down Interstate 74 in Boone County, Indiana and slammed into an oncoming truck.
According to Fox 59, the truck was heading west on I-74 near the Jamestown exit, when the truck driver noticed a car coming at him.  The truck driver moved lanes and tried to avoid a head-on collision.  Unfortunately, the vehicles collided.
After the impact, the truck driver jumped out of his truck–moments later, the truck burst into flames.
"I was lucky it didn't blow up on me, I reckon. In just a matter of a few minutes it was burned right to the ground," truck driver Don Bentley told Fox 59.
Bentley was not injured.
The 20-year-old driver of the other car was transported to the hospital.
Boone County Sheriff's Office Deputy Chris Burcham told Fox 59 that the crash could have been much worse had the truck driver not been alert.
"Good defensive driving on the part of the semi driver, because as we know a head-on can be tragic," Burcham said.
Investigators said the 20-year-old driver had alcohol in her system at the time of the crash.
Source: http://fox59.com/2013/07/24/semi-crash-shuts-down-i-74-in-boone-county/#ixzz2ZyScPBMW