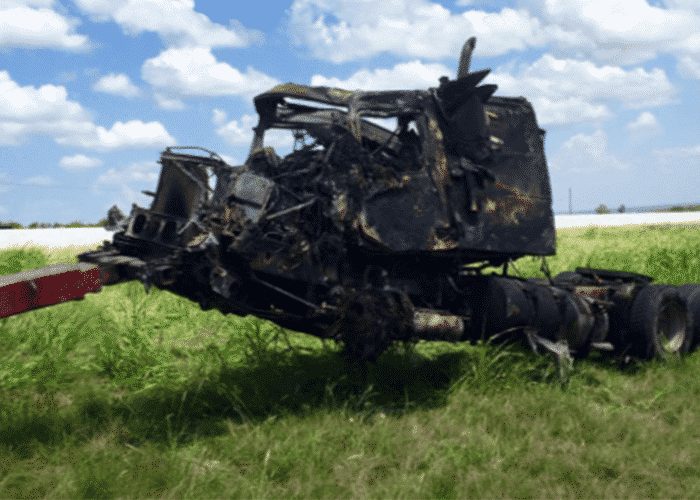 An off-duty El Paso police officer has been charged with DWI after causing a fiery three semi crash that led to the death of one of the truck drivers.
Cop Rear Ended Semi At 100 MPH
The crash happened yesterday morning around 4:30 a.m. on I-35 in Jarrell, Texas. According to police reports, 26 year old off-duty El Paso police officer Alan Eduardo Dieguez was driving a white Hyundai at speeds of over 100 m.p.h. when he rear ended a semi. The truck driver pulled over and got out of his truck to check on Dieguez.
While the truck driver was checking on Dieguez, another 18 wheeler hit debris from the crash and went off the road, hitting the trucker who had been rear ended.
A third semi hit the crash debris and caught fire.
Truck Driver Died At The Scene
The truck driver who was struck died at the scene. Three people were taken to the hospital.
Dieguez was arrested and charged with DWI and misdemeanor unlawful carrying of a weapon. He will be placed on administrative leave. His bail is set at $7,500.
Several lanes of I-35 were shutdown for hours, but all lanes were reopened by 11:30 a.m.
UPDATE to fatal crash in Jarrell. DPS says an intoxicated off-duty El Paso police officer going > 100mph caused it. pic.twitter.com/L69Ym3jh4B

— Noelle Newton (@NoelleonFOX7) June 21, 2016