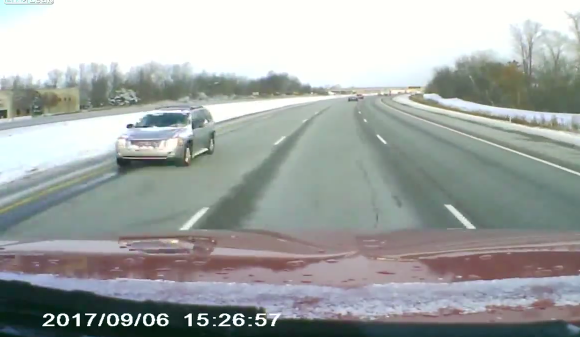 The seconds before a deadly head-on, wrong-way crash between two passenger vehicles in Michigan on Tuesday was captured on dash cam video by a stunned truck driver.
*GRAPHIC LANGUAGE WARNING*
Trucker Dash Cam Catches Seconds Before Crash That Killed Two
Suspected Drunk Driver In Deadly Wrong-Way I-275 Crash Identified As City Councilmanhttps://t.co/UvPf0R3BKh

— WWJ950 (@WWJ950) December 14, 2017
The crash happened on I-275 in Canton Township on Tuesday morning.
In the dash cam video from truck driver Dennis Turkette, you can hear his shocked reaction as he spots an SUV traveling in the wrong direction in the left lane of the interstate. At first, Turkette seems only somewhat surprised by the sight of the wrong way vehicle, warning the SUV driver, "don't you do it…", but you can hear his shocked reaction only seconds later when he sees the SUV collide head on with a sedan off camera.
The two people inside the sedan, 33 year old Nicholas Pare and 32 year old Shannon McIntyre, were killed in the crash. They were engaged to be married and leave behind three children.
Victims named in fatal crash on I-275, #WolverineLake council member identified as wrong way driver https://t.co/ftG67nJr4Q pic.twitter.com/Nhpzp782I7

— Daily Tribune (@DailyTrib) December 14, 2017
The SUV driver, 59 year old Wolverine Lake City Councilman Mike Stack, survived the crash. Michigan State Police say that they found an open container of alcohol in Stack's SUV.
Charges are pending the results of a blood test. For now, Stack has surrendered his driver's license but it still permitted to drive (pending the blood test results) with a 625 paper permit.