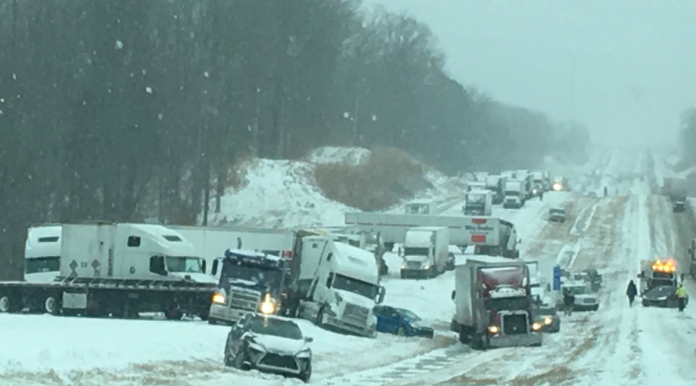 At least 16 semi trucks and eight passenger vehicles have crashed during winter weather conditions on I-40 in western Tennessee, forcing transportation officials to shut down the interstate.
The chain reaction crash happened around 1 p.m. in the westbound lanes of I-40 around mile marker 120 near Jackson, Tennesseee as Winter Storm Hunter caused icy road conditions.
@weatherchannel 40+ car pileup on I-40 between Jackson TN and Nashville TN pic.twitter.com/gOIWfkEXJO

— Noah Wilson (@jxntnweather) January 12, 2018
It isn't clear at this time whether injuries or deaths occurred during the pileup crash.
One motorist described his head-on collision with a semi truck during the pileup.
EXCLUSIVE: An accident victim describes his harrowing experience during a major pileup on I-40 in Tennessee to our field correspondent Brett Adair. The interstate remains closed indefinitely there. pic.twitter.com/QL39a2daWw

— WeatherNation (@WeatherNation) January 12, 2018
It isn't clear when the Tennessee Department of Transportation will have the crash cleared and the interstate reopened. Expect lengthy delays in the area. You can follow the Tennessee Department of Transportation on Twitter for the latest road closure information.
Viewer Photo: Camilla Naylor sent this in of the multi-car pileup on the east bound side of I-40 at mm 119. #tnwx #WBBJ pic.twitter.com/PehqDUDqb1

— Tom Meiners (@WBBJ7TomMeiners) January 12, 2018