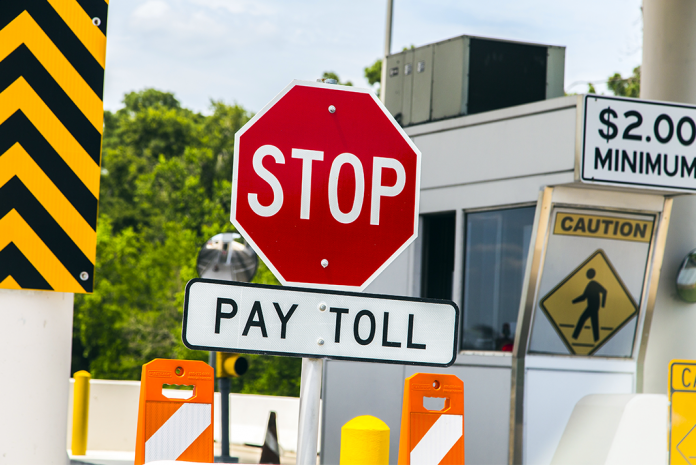 The Rhode Island Department of Transportation (RIDOT) announced that they will begin their controversial truck-only tolling program in the southern part of the state in less than a week.
Starting on Monday, June 11, Rhode Island will begin to toll trucks at two locations along I-95 between Hopkinton and Exeter.
The first toll location is 1 mile north of Exit 2 (Hopkinton/Hope Valley). Tractor trailer drivers will pay a $3.25 toll at this location.
The second toll location is at 3 miles south of Exit 5 (Route 102). Truck drivers will pay a $3.50 toll at this location.
The tolls will be capped. From RIDOT: "Tolls will be limited to once per toll facility, per day in each direction. Toll rates will be limited along the I-95 corridor at $20 for a border-to-border trip from Connecticut to Massachusetts. There also is a daily maximum toll of $40 per tractor trailer regardless of the number of toll gantries passed. All caps require the use of a radio identification transponder (such as E-ZPass)."
Additional locations will begin tolling trucks throughout the next 18 months.
Only Class 8 or higher trucks will be tolled.
Rhode Island transportation officials say that they will only be tolling trucks because they believe that trucks are causing the most damage to the state's bridges and roadways. RIDOT says that the revenue generated by the tolls will be used for infrastructure repair.
RIDOT explains the truck only toll program: "The tolling program is part of the RhodeWorks legislation which became law in February of 2016 as a way to rebuild Rhode Island's infrastructure. RhodeWorks provides for the planning, execution, management and funding to bring the state's roads and bridges into a state of good repair by 2025. The full budget for RhodeWorks is about $4.9 billion over ten years and about one tenth of that amount will come from the tolling program. The RhodeWorks law prohibits tolls on cars and small trucks."
The toll legislation has been staunchly opposed by trucking groups. In a 2016 survey by OOIDA, 79% of respondents said that they would choose to avoid Rhode Island completely rather than pay the truck-only tolls. Sixty percent of respondents said that they already alter their route to avoid tolls in other states.