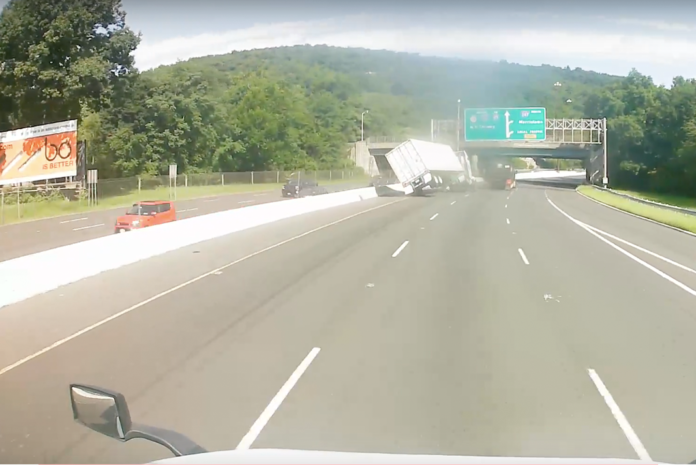 New Jersey police say that road rage is to blame for a tractor trailer crash that happened on Route 17 in Mahwah.
The dash cam video was released by the Mahwah Police Department.
Police say that the incident started when the driver of a grey SUV spotted a semi truck that he believed was driving aggressively. According to Mahwah Police Chief James N. Batelli, the SUV driver "decided to take the matter in his own hands and slow the tractor-trailer down to prevent any type of accident."
The truck driver told police that after the SUV brake checked him, his load of candy shifted and he struggled to maintain control of his vehicle. Eventually, he lost control entirely and the truck collided with a concrete barrier, flipping over onto its side.
Police say that there were no injuries.
The SUV driver, a 44 year old New York resident, was cited for reckless driving, failure to maintain lanes, failure to signal and delaying traffic. The truck driver, a 36 year old New York resident, was cited for careless driving, failure to maintain lane, and failure to signal.
Batelli says that this incident "underscores the dangers of an increasing trend of road-rage incidents."
You can take a look at the events leading up to the crash in the video below.