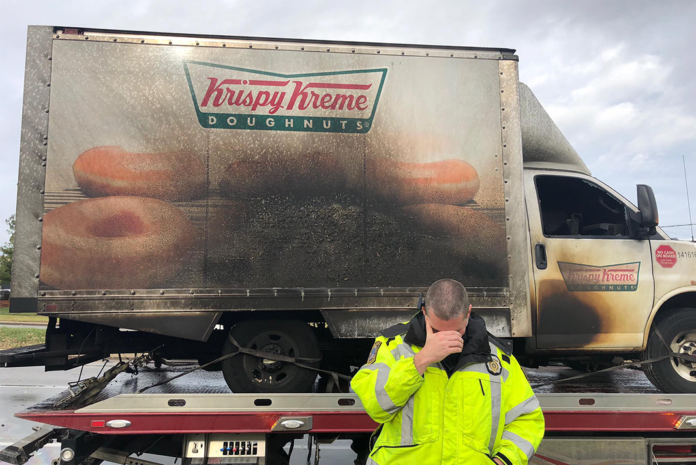 A Kentucky police department's hilarious response to a Krispy Kreme donut truck fire has gone viral on social media.
On Monday, December 31, a Krispy Kreme truck driver returning from making a delivery in Moreland, Kentucky, pulled off after noticing smoke in the cab.
The fire was extinguished and no one was hurt, but the Krispy Kreme truck — and the delicious donuts inside — were considered a to be a total loss, much to the dismay of responding officers from the Lexington Police Department.
Officers with Lexington Police shared photos on Facebook of themselves posed in front of the burned truck in various anguished poses. The post was simply captioned "No words."
Since Krispy Kreme tragedy appeared on Facebook on Monday, it has been shared nearly 75,000 times.
Other law enforcement agencies have sent out messages of solidarity to the Lexington Police Department to help them cope with their loss.
The Louisville Metro Police Department wrote:
This literally hurts my soul. Prayers to LPD as they deal with this loss. #IDonutThinkWeCanRecoverFromThis
Police officers from as far away as Ireland heard about the donut tragedy and offered up their condolences:
The Horror! We may call a Donut a Gravy Ring here in Northern Ireland but we can still understand your pain. Stay strong guys; tough times don't last, tough cops do. #WeStandWithLPD
Krispy Kreme also responded to the devastated Lexington Police Department with a message of hope:
🙏🏻 We're thinking of you during this difficult time…and have more doughnuts on the way! 🍩