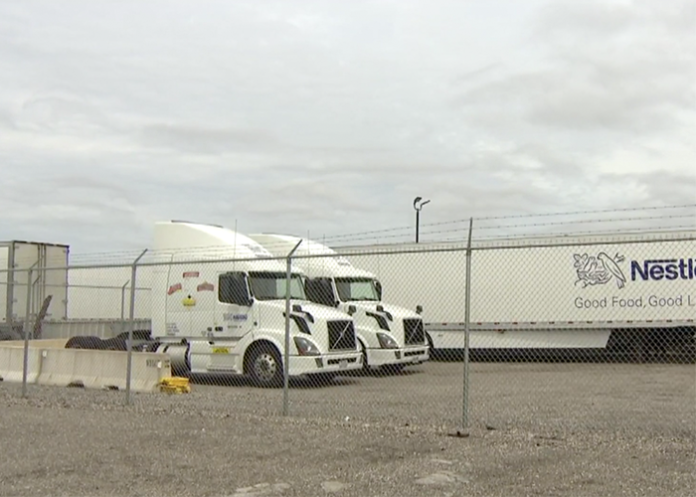 UPDATE JUNE 12 11 A.M.——————————————————————————
A truck driver who was fired because his employer believed that he was texting behind the wheel due to spotty cell phone service was offered his job back along with backpay, according to a new report.
Nestle truck driver Glen Kraft was recently fired after he appeared to send a text message to his boss while he was behind the wheel. However, Kraft maintained that he was sitting on the shoulder when he sent the text and that bad cell phone service in the area caused a delay in the sending of the message. "Why would I text and drive and text it to my boss?" he asked.
Following a report from local news station CBS2, Nestle reversed its decision to fire Kraft, offering him his job back and even promising him backpay.
Kraft, however, has already found a new job and declined Nestle's offer.
ORIGINAL REPORT—————————————————————————————
A semi truck driver who found himself in hot water with his company for texting behind the wheel says that he is innocent — and is blaming poor cell phone service for the misunderstanding.
A recent report from CBS Chicago says that truck driver Glen Kraft was suspended from his job with Nestle after he was accused of sending a text while he was on the road.
Kraft says that Nestle accused him of sending a text message to his boss while he was driving his daily route from East Dundee, Illinois, to Appleton, Wisconsin, and back. Nestle reportedly suspended Kraft for violating company policy against texting and driving — but Kraft claims that the whole thing is a misunderstanding brought on by bad cell service.
Though his driving logs show that he was on the road while the text message was sent, Kraft contends that he sent a text message to his boss while his truck was stopped on the shoulder of the road. He says that he started his truck and continued down the road and that the text did not go through for several minutes after he hit send because of poor coverage from his cellphone service provider, Boost Mobile.
CBS reporters were able to confirm that a text message sent in the same area from another phone took nine minutes to go through.
Kraft is waiting to hear whether he'll keep his job with Nestle and maintains that he did nothing wrong. "I don't know how you could be fired for a bad signal, or suspended. Why would I text and drive and text it to my boss?" he said.
Check out the report below for more.