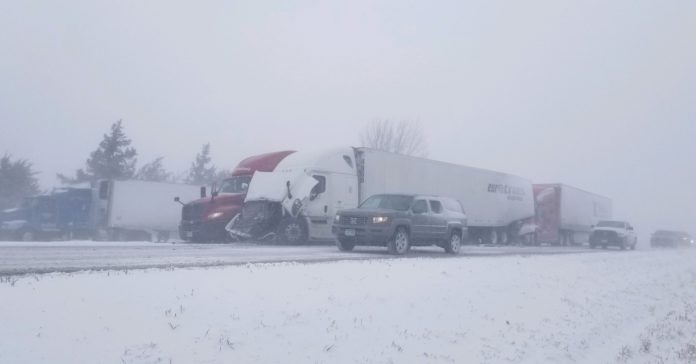 A major winter storm sweeping across the central U.S. has triggered a 20 vehicle pileup in South Dakota and forced Nebraska transportation officials to close a portion of I-80.
On Wednesday afternoon, a 20 vehicle pileup occurred at mile marker 99 on I-29 one mile north of the Dell Rapids exit in eastern South Dakota as a winter storm caused whiteout conditions, according to the South Dakota Department of Public Safety. Early reports indicate 4 or 5 people suffered injuries in the pileup. Northbound I-29 is closed and traffic is being rerouted.
South Dakota officials also reported two more pileups near Hartford and in Moody County but did not provide additional information on location or how many vehicles were involved.
The winter storm is also causing trouble in Nebraska, several crashes have occurred in whiteout conditions.
Around 3:30 on Wednesday afternoon, the Nebraska State Patrol announced that westbound I-80 is closed between York to Kearney due to multiple crashes. Additionally, Highway 34 is closed from Grand Island to Hastings and York to Grand Island. Highway 30 is closed from Grand Island to Kearney.
I-80 westbound is CLOSED at milepost 420 due to a crash. Please avoid travel for the duration of this storm. #NeRoads pic.twitter.com/aHHvvWCEDa

— Nebraska DOT (@NebraskaDOT) December 23, 2020