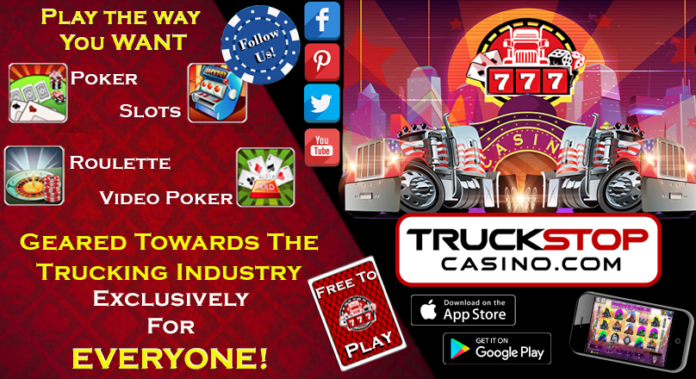 Content Sponsored by TruckStop Casino
We could all use a little distraction from the news right now, and the makers of a brand new truck stop casino app have just the thing to help you pass the time while you're waiting for your next load.
The TruckStop Casino app is now available for free for both iOS and Android users and promises to provide hours of gaming fun at the touch of a button, 24/7.
The app is specifically designed with truckers in mind and is a welcome way to make otherwise-boring wait times fly by.
The app gives you access to more than 20 different slot machines, Texas Hold'em Poker, six different kinds of Video Poker, Poker tournaments, and Casino tournaments. As you play, you'll gain levels and earn treasure chests, meaning that there's always something new to play for and that your online casino experience keeps expanding.
Not only is the app free to download, but it is also free-to-play, with a bonus chip package of 1000 chips every 10 minutes and up to 6000 chips within an hour. And if you need even more chips to move up faster, the app makes it easy to upgrade quickly.
If you want to take your game to the next level, you can opt-in to a VIP membership, which unlocks:
Private virtual poker tables
Daily members-only tournaments with even more prizes
Access to private messaging features
Game history features to help you keep track of your virtual victories
The app currently has a perfect 5/5 star rating on the Apple App Store and the Google Play Store.
Here's what users had to say:
Life4essay wrote: "Thank you. Great game if you want to kill time at the shipper or receiver. Plenty of free coins so always ready to play a quick hand."
What the Tsum said, "Love the poker game in it! Giving gifts makes it more fun to play with friends."
Clifford Allen wrote: "I love this game. Getting more coins every few minutes for free makes me really enjoy this game. Love BigRigReels and the sounds and game play are super fun!!!"
Ready to get in on the fun? The TruckStop Casino is open for business and you're invited to come on in!
Click here to download the TruckStop Casino app for free from the Apple App Store now!
Click here to download the TruckStop Casino app for free from the Google Play Store now!
This is sponsored content.