Truck drivers know the United State's roads better than anyone, but there are some highways that can make even the most skilled drivers break out in a sweat.
From gut-wrenching twists and turns to extreme weather to ghost sightings, these are some of the craziest roads for drivers.
Highway 1
This overseas highway in Florida runs 545 miles along the state's east coast, and while it doesn't have any crazy twists and turns, this road isn't for anyone who has a fear of bridges or water.
Jeremy Swamp Road
According to an urban legend, drivers in broken-down vehicles on this Southbury, Connecticut road have vanished before their tow truck arrives. Stories describe attacks by "Melon Heads," creatures that live in wooded areas.
Dalton Highway
If you have ever watched History Channel's Ice Road Truckers, you already know all about Alaska's unforgiving Dalton Highway. The 414-mile highway was built nearly 50 years ago to bring supplies to the Trans- Alaska Pipeline and has earned itself quite the reputation since then.
Threats of sub-zero temperatures, avalanches, blizzards, and icy roads ward off many drivers, and the minimal amount of civilization has some people calling it "the lonliest road on Earth.
Lake Pontchartrain Causeway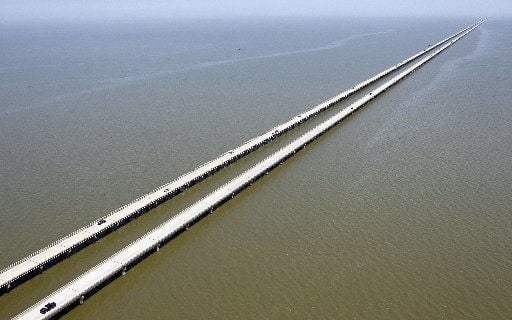 Located in Louisiana, this bridge has been listed among the "world's scariest bridges."
The bridge measures 23.8 miles long and was cited by the Guinness Book of Records as the longest continuous bridge over water.
Ortega Ridge Road
Known as the Las Tres Hermanas, drivers are warned to keep an eye out for the ghosts of three nuns along this road in Montecito, California. According to legend, the nuns were killed by highway bandits and their ghosts now stand, arms crossed, dressed in black and white habits, on the side of the road.
Pacific Coast Highway
This stretch of highway located in California has a fair share of steep cliffs and tight curves, making it one of the most dangerous in the country.
While it is also considered one of the most scenic roads in the country, its unpredictable weather and sparse gas stations make this road nerve-racking for drivers.
Chesapeake Bay Bridge
This bridge, located in Annapolis, Maryland is considered one of America's scariest bridges. There is even a Chesapeake Bay Bridge drive-over service for those who are too nervous to cross the 17.6-mile bridge.
Saddle Road

Saddle Road, also known as Hawaii State Highway 200, is a scenic drive located in Hawaii. However, don't be fooled by the beauty surrounding this highway, as its single-lane bridges, rough terrain, and vision-obscuring fog are major hazards to drivers.
Clinton Road
Clinton Road in New Jersey has is known for the haunting of the infamous Jersey Devil. According to legend, the Jersey Devil lives along the road, waiting to scare drivers at night. Other paranormal activities, such as phantom headlights and UFO and ghost sightings, have taken place along the highway.
Million Dollar Highway
Sitting 11,000 feet above sea level, Highway 550 in Colorado is a 25-mile stretch through the mountains. The lack of safety measures like guardrails and shoulders means drivers have to use extra caution when maneuvering their vehicles along this road.