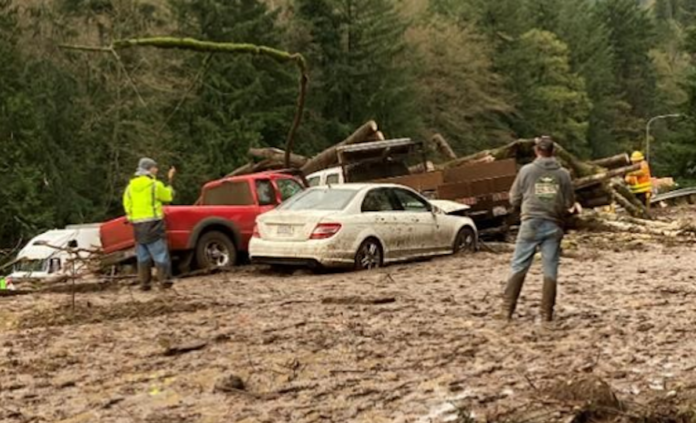 Rivers have flooded in Washington over the last 48 hours as rain pummels the region, wrecking havoc for drivers and residents. 
The rains began in the heaviest hit region, Whatcom County, Washington, on Sunday, November 14th and continued into Tuesday, dumping 8 inches across the region.
The storms brought flooding and mudslides that closed Interstate 5 on Monday night, and even brought wind gusts of up to 77 mph, knocking out power and nearly blowing a semi truck off a bridge.
Both directions of I-5 in Bellingham will remain CLOSED overnight due to flooding & active slides threatening the highway. NB will be closed at Nulle Road (milepost 246) and SB at North Lake Samish (milepost 244). We will reassess in the AM. pic.twitter.com/9avZwHwquq

— WSDOT North (@wsdot_north) November 16, 2021
A look at the #Coquihalla in the #BChwy5 Portia area. Crews are on site and engineers are assessing the risk and impact. Safety is our top priority.
Check @DriveBC for updates. pic.twitter.com/TjdHtkLEuP

— BC Transportation (@TranBC) November 14, 2021
Major river flooding has overcome homes, prompting "extensive search and rescue efforts" of residents in the area, reported ABC News.
The river crest is expected to continue rising, with an estimated 37.6 foot crest by Tuesday afternoon – a height that would top the previous 1990 record of 37.4 feet.
A winter weather advisory is also in effect, and as much as 1 foot of snow is expected for elevations over 1,500 feet.