Starting this week, drivers caught without required tire chains in Oregon will face a stiffer fine.
Effective September 25, a new Oregon law will increase the fine for chain law violations to $880.
The Oregon Department of Transportation (ODOT) points to the cost of stuck trucks as a reason for the fine increase.
"The estimated cost of delays caused by trucks failing to follow Oregon chain laws is over $8 million a year – to the motor carrier industry and other highway users. When a truck loses traction, it can not only delay its delivery but also delay everyone else on the road behind a stuck truck," ODOT said.
Under Oregon law, all truck drivers must carry chains "whenever road conditions might require their use during your trip and signs are posted."
You can visit TripCheck.com for the latest travel information from ODOT.
See below for more information from ODOT on chain law requirements.
Oregon Chain Law
Oregon's chain law applies to all highways throughout the state. When you drive in winter conditions, you may see signs telling you to carry chains or traction tires and when you are required to use them. In some areas, lighted message signs also will advise you about chaining up. Traction tires may be used in place of chains on vehicles rated at 10,000 pounds gross vehicle weight or less and that are not towing or being towed.
Studded tires are legal in Oregon from November 1 through March 31. Because of the damage caused by studded tires, the Department of Transportation encourages motorists to use studded tires only when necessary. Delaying putting on studded tires or using other traction tires is helpful to the condition of the highways.
For placement of chains or traction tires go to Minimum Chain Requirements. For information on traction tires go to Traction Tires.
Signs
Lighted message signs or signs like these will be posted to let you know the current requirements for chains and traction tires: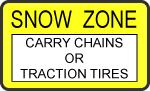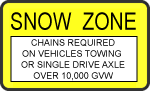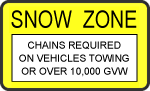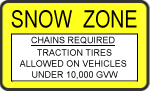 Conditional Closures
In addition to the chain restrictions defined above, ODOT may impose a conditional road closure. Conditional Closures may occur on any state highway and may apply to specific vehicle types in response to specific road or weather conditions. For example, a road may be closed to low profile vehicles due to high water.
As applied to snow zones, a Conditional Closure may be used when the defined chain restrictions are insufficient for the current conditions. For example, a typical Conditional Closure on Interstate 5 through Siskiyou Pass south of Ashland is "Chains required on all vehicles excluding four wheel drive vehicles unless towing." This means that chains are required on all vehicles except four wheel drive unless the four wheel drive vehicle is towing. The use of traction tires is not sufficient. This is one example, the actual Conditional Closure will vary with road and weather conditions.
Typically ODOT or Oregon State Police personnel will be on-site to advise motorists on the nature of any Conditional Closure.
Definitions
"Chains" include link chains, cable chains, or any other device that attaches to the wheel, vehicle or outside of the tire that is specifically designed to increase traction on ice and snow conditions. For information on the placement of chains go to Minimum Chain Requirements.
"Traction Tires" are studded tires, retractable studded tires, or other tires that meet the tire industry definition as suitable for use in severe snow conditions.
Tires designated by the tire industry as suitable for use in severe snow conditions are marked with a mountain/snowflake emblem on the sidewall like this:

For information on these tires, contact your tire dealer or the Northwest Tires Dealers Association .
"Retractable studded tires" are tires with embedded studs that retract to at or below the wear bar of the tire and project not less than .04 inch beyond the tread surface of the tire when extended.
"Studded tires" are tires with studs that are made of a rigid material that wears at the same rate as the tire tread. The studs must extend at least .04 inch but not more than .06 inch beyond the tread surface. Studded tires are only legal for use in Oregon from November 1 through March 31.
When allowed in place of chains, traction tires are to be placed as shown on Minimum Chain Requirements.
Exemptions
In typical winter conditions, the following vehicles are completely or partially exempt from the chain law. However, in very bad winter road conditions all vehicles may be required to use chains regardless of the type of vehicle or type of tire being used (this is known as a conditional road closure). A conditional road closure may occur on any of Oregon's highways and are frequent in the winter on Interstate 5 through the Siskiyou Pass south of Ashland:
Police vehicles, and fire vehicles, ambulances, and Department of Transportation highway maintenance vehicles when performing their duties.
A four-wheel or all-wheel drive passenger vehicle if all of the following statements are true:

It has an unloaded weight of 6,500 pounds or less;
It is operated to provide power to both the front and rear wheels;
It is carrying chains;
It has mud and snow, all-weather radial, or traction tires on all of its wheels;
It is not towing another vehicle or a trailer;
It is not being operated in a manner or under conditions that cause the vehicle to lose traction.

Utility company vehicles, such as water, power, or heat, when providing emergency response services.
A bus that is over 10,000 pounds gross vehicle weight (GVW) due only to accessibility modifications for disabled persons is exempt from the chain requirements for vehicles rated over 10,000 GVW unless it is towing or being towed.
Motorcycles are exempt from the requirement to carry chains or traction tires and may not travel when chains or traction tires are required on all or certain vehicles.
Note: Although exempt, ODOT vehicles use mud and snow tires and chains in most winter situations. Studded tires are not used on ODOT vehicles because of the damage such tires cause to the highway.
Penalties
Drivers who disobey the signs requiring chains or traction tires are subject to a class C traffic infraction. In addition, drivers of a commercial vehicle may be subject to a class A traffic violation for failure to carry and use chains and traction tires.
Additional Information
The information on use of chains and traction tires is based on Oregon Administrative Rule Chapter 734, Division 17.