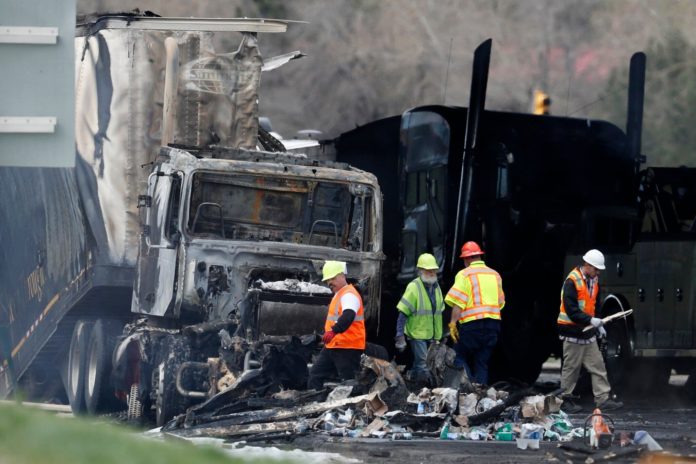 A petition seeking to lessen the sentence of a truck driver involved in a deadly 2019 crash on Interstate 70 near Denver has garnered more than 4 million signatures in less than a week, paving the way for a potential reevaluation of his sentencing.
Rogel Aguilera-Mederos was sentenced on December 13th to 110 years in prison for a wreck that killed four outside of Denver, Colorado. The lengthy sentencing drew almost immediate criticism, even from the judge, who said he was adhering to a Colorado state law requiring sentences from each count to be served consecutively but said that "if I had the discretion, it would not be my sentence."
Shortly after the sentencing, a change.org petition began circulating, demanding that Colorado Governor Jared Polis grant Mr. Aguilera-Mederos clemency or a commutation – meaning a reduction or replacement of his current 110 year sentence. Since then, the petition has been signed more than 4,368,000 times – and that number is still climbing. Support for the petition has been so immense that one of Aguilera-Mederos' lawyers says it may be enough for the governor to consider a change in sentencing. 
"I have been in this system for 32 years and I have never seen anything like this," said James Colgan, a lawyer for Mr. Aguilera-Mederos, reported The New York Times.
"I think the chances are pretty good that the governor is going to look at that favorably," he said, adding, "This is truly, truly, truly something that is out of the ordinary."
"We're not saying he's innocent and didn't make mistakes," Colgan said. "[But] the punishment has to fit the crime and this punishment does not fit the crime."
Colgan says he plans to seek a commutation for Aguilera-Mederos, which would lessen the severity of his sentence but would not pardon him from his offenses. A commutation would mean a change in the amount of time Aguilera-Mederos would spend in prison, but would not reverse the jury's decision to convict him.
A spokesman for Governor Polis says that "we welcome an application" from Aguilera-Mederos' defense and says they "will expedite consideration" but that they "have not received one yet at this time."