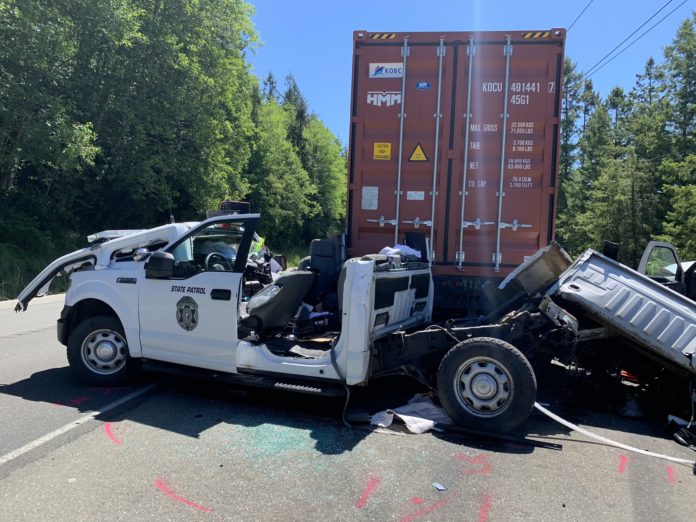 A Washington State Patrol (WSP) Commercial Vehicle Enforcement Officer (CVEO) was hospitalized with serious injuries after his vehicle hit by an impaired pickup driver while he was conducting a truck inspection.
The incident occurred around 9:30 a.m. Tuesday, June 1, 2021, near Discovery Bay, Washington.
According to a WSP news release, CVEO Alfred L. Alderson, 55, was completing a roadside semi truck inspection on the shoulder of southbound US 101 at mile marker 283 when he was struck from behind by a white Ford pickup driven by David S. Johnson, 40.
Alderson was sitting inside his fully marked Ford F150 patrol vehicle with emergency lights activated and was not wearing his seatbelt, as he was about to exit to complete the inspection process when he was struck.
The impact of the pickup strike pushed Alderson's vehicle into the semi.
Both Johnson and Alderson were airlifted to a hospital for treatment of serious injuries.
Police later learned that the pickup that Johnson was driving had been reported stolen to the Clallam County Sheriff's Office (CCSO).
WSP reported that Johnson was impaired at the time of the crash.
Witnesses reported seeing Johnson driving erratically southbound on U.S. 101, including passing vehicles in a no-passing zone prior to going off the roadway to the right prior to striking Alderson's vehicle.
Johnson was placed into police custody on suspicion of Vehicular Assault.
For those inquiring on the status on our #WSP CVEO injured in yesterday's vehicular assault in #JeffersonCounty: he is on the road to recovery.

The driver who struck our CVEO is also doing well.

We are thankful everyone involved is on the mend. #YourWSP

— Trooper Chelsea Hodgson (@wspd8pio) June 2, 2021