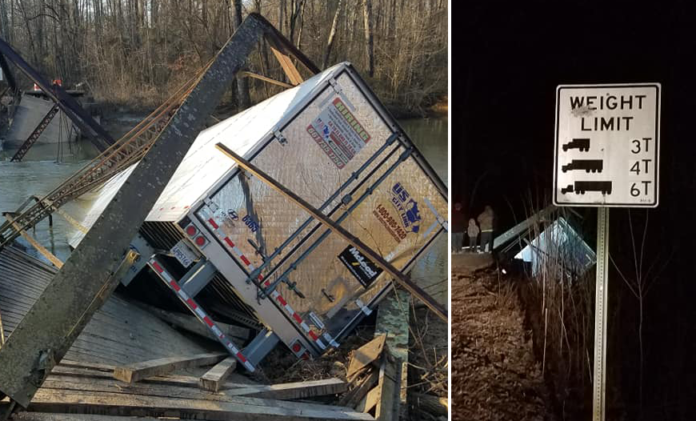 The state of Arkansas has filed suit against a California trucking company and its driver after a major bridge collapse in 2019.
Earlier this month, the state of Arkansas along with the Arkansas Game and Fish Commission filed a lawsuit against truck driver Harjinder Singh and Bakersfield, California-based trucking company US Citylink Corp. in the Yell County Circuit Court.
The suit is pressing for funds to repair the damage caused by Singh, but plaintiffs are also seeking punitive damages and requesting a jury trial, according to the Arkansas Democrat-Gazette.
The bridge collapse occurred on January 30, 2019, in the Yell County town of Ola, Arkansas.
Singh was reportedly hauling a load of processed chicken to Danville when his GPS device led him to the Dale Bend Bridge.
Though there were signs posted at the bridge entrance warning the driver about the 6 ton weight limit, Singh attempted to cross the bridge anyway in his 38 ton truck.
The weight of the semi truck collapsed the 88 year old bridge structure and left the truck partially submerged in the Petit Jean River.
No one was hurt.
The lawsuit alleges that without the bridge, locals now have to take a 12 mile detour, which has in turn increased staffing needs and costs or the Arkansas Game and Fish Commission.
"Upon information and belief, based on the past driving record of defendant Singh and the obvious disregard for known and posted weight limits, defendant's actions rise to the level of grossly negligent, willful, wanton, reckless, malicious and/or intentional conduct," the lawsuit alleges.