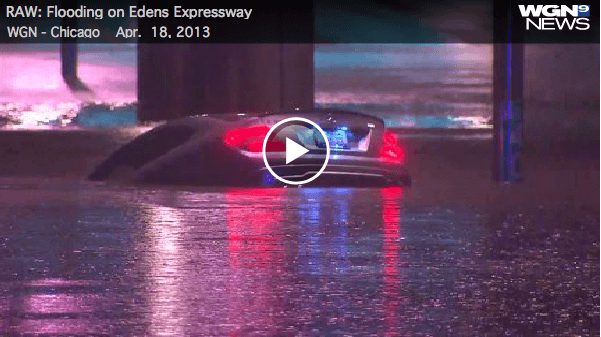 Illinois Governor Pat Quinn is warning Chicago-area residents to stay alert and avoid flooded area.
Areas of Northern Illinois are dealing with widespread flooding and numerous road closures.  Parts of the Edens and Eisenhower expressways to close in both direction and the Edens is closed from Foster to Touhy avenues, and a portion of the Eisenhower Expressway is closed between York and North because of flood waters, NBC Chicago reported.  
Early this morning, the Des Plaines River was at 10 feet and rising.  Route 41 between Route 21 and Delany Road is closed in both directions.
The rain is wreaking havoc on the area.  Traffic on the Kennedy is at a standstill in both directions at Keeler and Addison.
"In the last 24 hours, more than six inches of rain fell in Oak Brook and Naperville, while O'Hare International Airport saw 4.69 inches. Among the towns hardest hit with more than five inches of rain were Elmhurst, Lisle, Lombard, Aurora and Wheaton," NBC Chicago reported.
Flood warnings and watches has been issued for the entire Chicago-metro area.  The National Weather Service is predicting two more inches of rain and possible strong-to-severe thunderstorms.
Many flights at Chicago airports have been canceled.
The village of Lisle has declared a State of Emergency.  Some residents have been warned to evacuate their homes or businesses for flooding near the Benedictine University.
A state of Emergency has been declared in the following municipalities:
Lombard, Des Plaines, Elmhurst, Schiller Park, River Grove, Gurnee, Des Plaines and Villa Park.
Read more: http://www.myfoxchicago.com/story/22013133/state-of-emergency-in-lombard-elmhurst-schiller-park-and-river-grove#ixzz2QpvAym39
Source: http://www.nbcchicago.com/weather/stories/Lake-County-Calls-for-Help-Ahead-of-Heavy-Rain-203378001.html#ixzz2QpqZr7G
Video: WGN Chicago