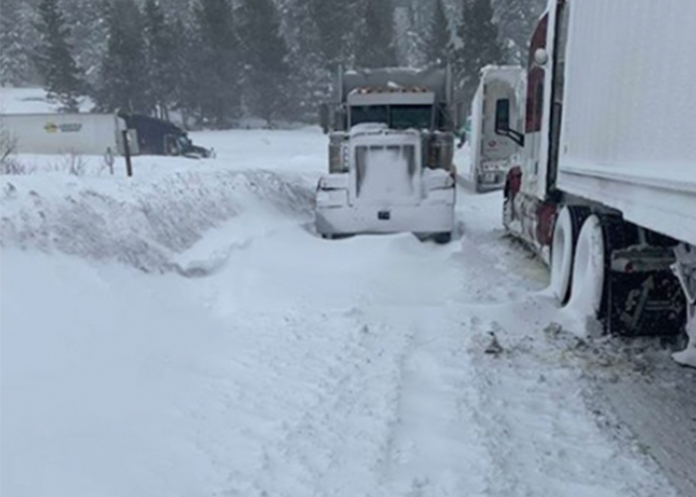 A group of semi truck drivers have been stranded on an Idaho highway since Monday — and they won't be going anywhere anytime soon, according to local transportation officials.
Approximately a dozen truck drivers have been stranded at the Highway 20 and Highway 87 junction near Island Park, Idaho, since the evening of Monday, February 25, because of a road closure brought on by a severe winter weather storm.
Many of the drivers, who have now been stranded in their trucks on Highway 20 for nearly two days, ran out of their own fuel or food but have been brought fresh supplies by volunteers with the Fremont County.
Tow truck driver Danny Casillas expressed his frustration with the situation. "It's 2019. Maybe one day, one night stuck out here, but you know, two, three days stuck, this shouldn't be happening. Like, I know it is crappy weather, but they have big rotaries they can come in here, make a big path, get these guys out of there," he said.
Unfortunately, the truck drivers won't be getting out anytime soon. Idaho Transportation Department (IDT) spokesperson Megan Stark told Local News 8 that the very earliest that they might be able to get the stranded truck drivers out would be some time on Thursday. "We've got drifts anywhere from 6 to 10 feet out there right now. We've got 40 mile an hour wind gusts. It's pretty bad. So, for safety purposes and keeping everybody warm and everything, we have the road closed," she said.
Fremont County says that they will continue to provide supplies to the truck drivers until they are able to get off of Highway 20.
‪IDAHO: A dozen semi trucks stranded on highway 20 since Monday night. @IdahoITD says they may not be able to get them out until Thursday. They have brought food and gas via snowmobile so they should be ok. 6-10 foot snow drifts and the highway obviously closed.‬

Posted by Ginger Zee on Wednesday, February 27, 2019