K&B Transportation
Products Used
Direct Leads | Matched Leads | Text Blasts | Video Production
---
---
100%
Orientation Involvement
"We're in the position where we can add trucks again. CDLLife is a is a key part of that due to the volume and the consistent hires that they produce week in, and week out in every orientation class."
— Sean Barragan , Director of Recruiting
Communication is key
K&B Transportation is special to us here at CDLLife. They're one of our first clients, and we've scaled our businesses together. We're very invested in their success; we have a deep understanding of their recruiting program and their needs as a company. We began working with them over three years ago with a small starter budget of $1,500, and have since grown that monthly budget by 7X, as both their needs and our product lines have grown and developed.

We've gone from running small social campaigns to providing consulting, agile campaign management, and creative services. They reach out to us with pain points, when hires ebb and flow, when recruiting classes are full, and when they're light. By keeping an open line of communication, we're able to really understand what their needs are, how we can help them, and due to that constant feedback loop, we're able to constantly improve, shift, and optimize their campaigns to generate the best possible quality and volume of leads in the areas they need them.

We do all we can to improve and innovate to meet the needs of our clients, and K&B Transportation's willingness to experiment with us has been instrumental in developing the best possible lead generation strategy and quality, consistent results for their business.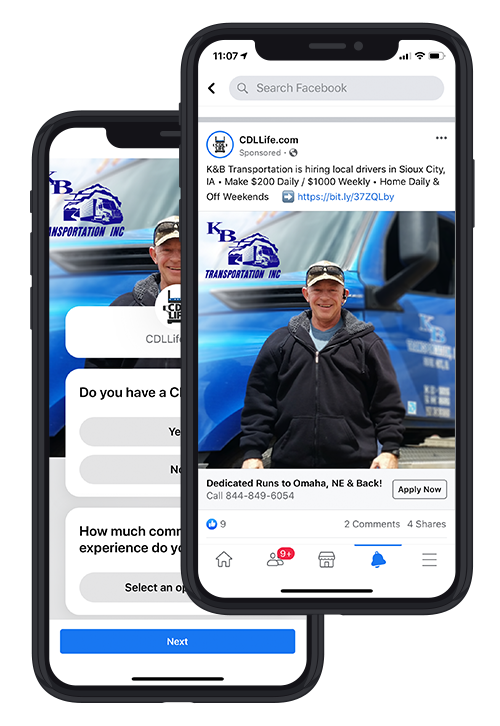 Get in Touch With Us
Connect with us today to jump-start your recruiting efforts, refresh your brand identity, or consult with our team.